"I used to be in the boyscouts. I got a Merit badge just for this." - Duncan
---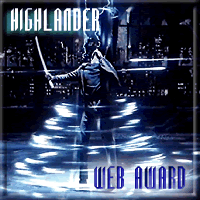 The Quickening award

I was lucky enough to win the prestigious Quickening Award from Immortals Highlander Page, one of the best sites around devoted to Connor and the movies. The Quickening award is first place out of three different awards offered by the site. In the words of the webmaster: "I've viewed quite a few link sites, and have for the most part been very dissapointed. I seem to find broken links everytime. I like that your site is not just one long list of catagorized Highlander sites. It's user friendly and the graphics are original. I could not find one broken link. Yours is THE BEST highlander link site on the web." Thanks again!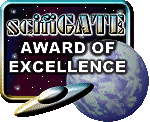 ScifiGATE Award of Excellence

Another award from ScifiGATE. This award is given to sites which excel in more than one area. Thanks again!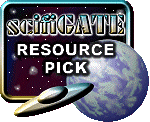 ScifiGATE Resource Pick for the week of Feb 18th

ScifiGATE is a site which offers listings to hundreds of SciFi Related sites. The Resource pick is for sites which "offer a valuable online resource for fellow fans." This means a lot since this is what I've always set out to do with Quink's Links.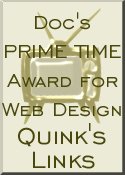 Doc's Prime Time Award
This latest award is from CyDoc, who runs an award site for tv fan sites. The Prime Time award is awarded to sites with good html, navigation, and graphics. This isn't strictly a Highlander award, and is good for any site that deals with Television... Espically if you're looking for a more serious award for fan sites.
RFWP RAVE'n Award
My newest award is from The Ravenite FON Wolfe Pack. From the RFWP RAVE'n Award site, "The Sapphire Site Award represents top marks in all areas of website construction. Its design will show artistic use of images and layout. The site is pleasing to the cyber-senses. It demonstrates a unity of theme which may be evident in content, color, style, or any combination of these. Its structure must be sturdy: clear text, tables, frames, links, gadgets all in working order.
Finally, the Sapphire Award is given to sites which are true realms unto themselves, with some degree of interaction (frequent updates, visitor response, message boards, etc.) which would inspire a visitor to come back often." Be sure to pay The Ravenite FON Wolfe Pack a visit. It has some of the best Raven content out there.
The Highlander Website Award
A great award from Jam-wired's Jumbalaya. These come in Gold, Silver and Bronze and are awarded to Highlander sites with good html, good content and a good overall design. Thanks Jam! Jam -Wired also runs the MacMINT Asylum.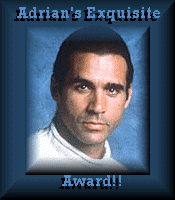 Adrian's Exquisite Award
This was one of two awards given to me by Adrian's Mistress at The Unofficial Adrian Paul Website. She has several other awards you can apply for as well.

The Critical Mass Award
This award is given to sites that "have useful content, good design and presentation and are easy to navigate." Visit the Critical Mass site to see some other great award winners.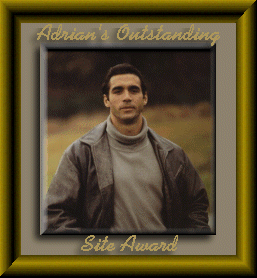 Adrian's Outstanding Award
---
Email | About Quink's Links | Quink's Pick | Home | Add a Link | Awards for Quink's Links | Guestbook

Disclaimer: Highlander belongs to Davis/Panzer, Rysher and various other powers that be. I don't claim to own any of the sites I link to, so praise/complaints about those sites should be sent to the owners.
Graphics on this site were created espically for Quink's Links, so please don't steal.
Email me at quink101@hotmail.com.
© Quink 1998, 1999, 2000