Tony Swatton
Creating a Dangerous Work of Art
---
From left to right, you can barely see the sword from the movie Blade, then a large (and heavy) broadsword for a Marine Corps recruitment commercial running in the theaters July, 1999, sword, sword from the television series Conan, The Barbarian, rapier from the movie Mask of Zorro. Not seen in this picture is a replica of the sword used in the movie Conan, the Barbarian made from molds taken from Arnold Swartzenegger's original Conan sword. On the table is the 'hook' from the movie Hook.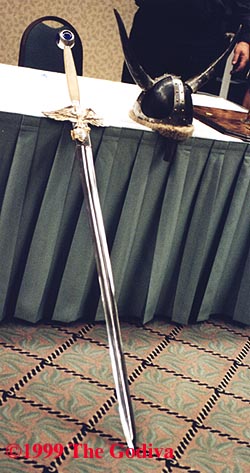 Seen here is the custom broadsword created for the Marine Recruitment commercial showing in theaters during July, 1999. It's very heavy. Originally three were to be produced and sold to the production company. In the end one was produced and rented. Tony says you can have this one for around $7,000. On the table a 'viking helmet'. According to Tony this design is not historically accurate, but rather comes from stage costumes developed in the 19th century in Germany for Wagnerian opera.
Here's Tony showing off his wares. Tony started in jewelry at a young age, with faceting gems and then making jewelry. He then went on to learn forging and making swords. His background in jewelry making and design is quite evident in the detail of his pieces. They are truly works of art. He has details and engravings on his pieces that would never show up on screen. But he feels that attention to detail is what makes his pieces in demand by production companies.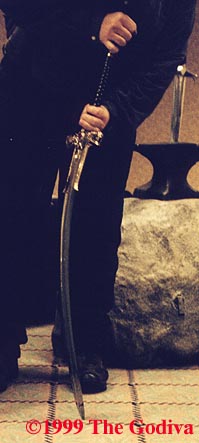 Here, Tony demonstrates the flex on the Conan, The Barbarian television series sword.Tony also has a copy of the Conan sword from the movie, made with permission from a mold taken from Arnold's original sword, which Arnold had brought to Tony to have repaired. Tony did not design the movie sword nor does he own the copyright or have permission to make them. The Conan movie sword was designed and made by Jody Samson and will soon be available by special permission from Albion Armorers.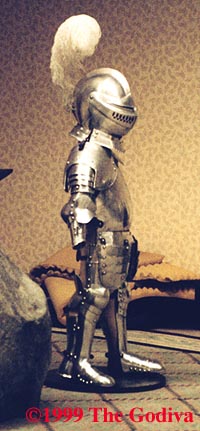 This is a suit of armor created for a five year old child, used in a MacDonald's commercial.
Here is another view of the child's armor. In the background you can see a "Soul Stealer's Scythe" developed for the television series Babylon 5.
And here's Tony. In front of him on the table you can see the hook from Hook, on the table behind a prop from one of the Batman movies, on the wood stand for the hook is an antique looking straight razor that was created for one of the Star Trek, The Next Generation movies. Ryker is seen shaving with it. The edge has since been taken off for safe handling.
Sword and the Stone
723 N. Victory Blvd.
Burbank, CA.
(818)562-6548

(Tony does not own the rights to reproduce the Zorro rapier or the Blade Katana. Don't ask him. The Zorro sword is available from United Cutlery. The Blade katana will soon be available from Tuscany Trading. But be advised they are just 'wallhangers', not battle ready swords. To read more about the Blade sword I recommend the Sword Forum International magazine online.)
---
Sword Spectacular Weekend