Victorchille and Anthony de Longis.

Posted by Godiva -who should know on Monday, 7 December 1998, at 4:36 p.m.
How cold was it? Well, there was snow on the side of the freeway driving up Sunday morning. And the wind was nonstop. When I got out of my car at the Roy Rogers Museum I knew I hadn't dressed warmly enough. Didn't bring my gloves. And this, after a lovely tour through all the scenic new subdivisions east of the turnoff to the museum. (After I doubled back to the freeway, a friendly native in the IHOP parking lot finally pointed out the big horse in front of the museum and I found it. Can't imagine why I missed that tiny little sign pointing to the left that said simply 'museum'.)
Despite the fact that it was almost 10:30 a.m. by the time I arrived they were still only in their first run. Anthony hadn't even mounted Hollywood to warm him up yet. So he came over and said "HI" and posed for some 'photo ops'. Showed off his lovely red shirt with the blue Celtic designs. Also had on a wool vest and coat over that and a scarf. Pants, boots, gloves, hat. But I wonder if he wanted us to huddle for a picture for a little extra warmth as well.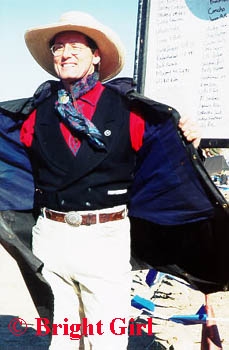 Did I mention it was cold?
Saw Methos Watcher, Bright Girl, Brigit (who actually climbed on the motor home for pictures!), Barb Wire, Maureen Russell and Reolla. There was someone named Vicky from the ADLFC there but she left soon after I arrived and I didn't talk to her.
Anthony warmed up Hollywood and did his run. He missed a balloon and had the judge check his gun but it fired so points were taken off as it wasn't a defective cartridge. This happened to a number of riders.
Since there was some time between the first and second setup some of us went inside the museum lobby to warm up. It was wonderfully warm. Watched some of the entertainment. Santa lassoed a few kids and gave out candy canes.
Then back outside again.
Have I mentioned the bitter cold?
Slightly different setup. The balloons were still bobbing but at least the wind direction was consistent. This time Anthony not only made a clean run (the only one of the weekend I understand) but also made his best time...25:26. He didn't hear so he had Mary go check and when she told him his face lit up. He was very excited. Asked again. Kept saying "Really?" Even Hollywood looked pleased. Anthony was a 'referee' for the remainder of the runs, in the corner signaling when the field had a green light for the next rider to go. There seemed to be more than a few misfired shells and balloons that either popped themselves or leaked air so badly they were flat. They decided to call it a day after only two sets...about 12:30. Just as well. The riders had to shoot without gloves and some of them even wore no coats when shooting so as not to interfere with drawing their pistols.
Even the horses didn't like it.
Have I mentioned that the wind was VERY cold.
Anthony posed a bit more. Got out his whip and cracked it a bit. The wind wasn't working very well for the long one so he tried the shorter bullwhip. After some pics he put them away. Roy Roger's grandson, Dustin Rogers, did an exhibition run. Clean shoot, not the fastest time of the day but certainly competition.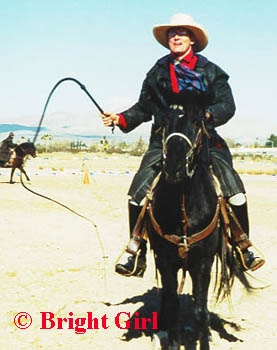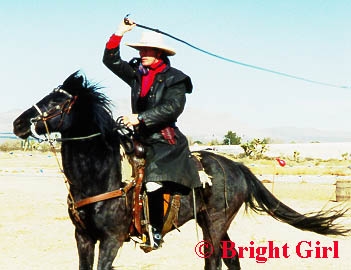 Barb, Brigit, MW, BG, Reolla, Maureen and I all went in to see the Museum.
Very interesting.
Then the awards ceremony took place around 1:30 p.m. The trophies were custom made, wrought iron silhouettes of Roy Rogers on rearing Trigger. Roy's son, Roy "Dusty" Rogers, Jr., had had them made special. And because the guy making them was running behind, Dusty's son, Dustin, had had to go help finish them off. One of the large ones has become a perpetual trophy for the group. There is novice, intermediate and expert class for both men and women and juniors. Each person is more in competition with themselves, trying to improve, than with others in the group. They are very supportive of each other and recognize and congratulate each other on improvements. Anthony didn't win any award this time. But he did win a coffee mug and gift certificate in a raffle.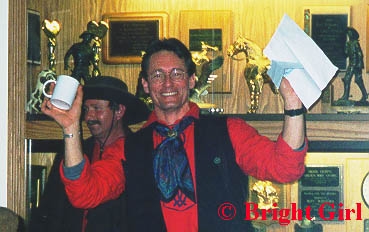 After the awards he talked to several of us who were milling around. There was a lady from the cruise with two small boys and he talked with them. Then he joined us inside the museum where there are some 'hobby horses' and dress-up hats for people to take pictures. I'm sure Brigit, Barb or Bright Girl will post suitable extortion material soon. BG's pictures might even be back today.
It was a wonderful, relaxing, fun day. The weather may have been cold but the friendships were warm and inviting. Anthony was, as always, the perfect gentleman, happy and welcoming, making everyone feel glad they came. And he thanked us all for braving the weather and coming to watch him and cheer him on.
Victorchille and Anthony de Longis.

Posted by Sheila on Monday, 7 December 1998, at 10:17 p.m.
The two boys were Kevin and Andy. They wanted to say thanks to Anthony for being a great sport and taking pictures with them. Also Kevin wrote to Anthony to say he would like to be like him some day.
Victorchille and Anthony de Longis.

Posted by Mary on Tuesday, 8 December 1998, at 6:20 p.m.
Victorchille? Your certainly got that one right. Anthony cracked up when I told him your new name for the city. Brava--your aim is true!
Hopefully, we will have some new mounted shooting photo pages on his website soon. I'll let folks know when they have been uploaded. Thanks for coming out and supporting "The Man." It touches him enormously. The weekend would not have been nearly as much fun without you.
---
Victorchille and Anthony de Longis

Posted by Brigit MW on Monday, 7 December 1998, at 7:32 p.m.
Filling in a little about Saturday, too. I got there Sat. about 9:45 a.m. The "chuck wagon" was offering cooked-over-a-campfire breakfast for $5 - eggs, sausage, biscuits & gravy, coffee. Smelled wonderful, but since I'd already eaten before the drive, I passed. Chatted with some of the cooks, since most of the competitors were off riding in the annual Christmas Parade down Main St. Victorville. Yes, it was cold. And breezy (nothing like Sunday). The course was set up. All that was needed were riders. **FINALLY** we saw them off in the distance trundling thru the desert. After spying them on the freeway overpass. According to Anthony, no one knew the way back from the parade route to the Museum, so (boys being men) they just wandered till they saw "familiar territory". Whilst waiting for AdL, I watched "The Cadillac" drive up, with Dale Evans in the back. She'd been in the parade in the museum caddy. Unfortunately, the horses had to walk a good 2 hours (on pavement), which left them a bit weary for competition.
Anthony finally showed up with Hollywood and the competitors started warming up their mounts. The shooting didn't really start till about 11:15 (I think). They wanted to do 4 rounds each day with different courses set up for each round. As G explained, the object was to ride as fast as you could, shooting 5 rounds from a single shot pistol (meaning you had to cock the gun and pull the trigger for each shot - something quite difficult to do while riding as fast as you can with the bone-chilling wind blowing and no gloves on...) then holster that gun, unholster the second gun and shoot 5 more balloons. If you missed a balloon it was a 5 second time penalty. Many of the shooters had at least one balloon "duck" at the last second....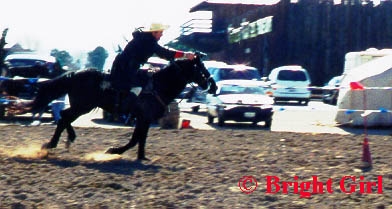 Vicky and Vicky showed up, as did Maureen Russell, so BarbWire and I chatted with them and Mary (when she wasn't feeding Hollywood his carrots) and Anthony (when he wasn't warming Hollywood up). It was lots of fun, plenty of photo ops with Anthony and a challenge to shoot photos of something I'd not done before. As G said, I did get up on the roof of the motor home Sunday, but stayed on the ground Saturday. That was a mistake as the wind was much calmer Saturday.
They called it a day at about 3:30. We hung around, joined in a "Merry Christmas/Happy Birthday" celebration, then went our various ways to check into the various hotels. BarbWire, Reolla and I met for dinner. Teased the waiter unmercifully (much to his delight - although would have liked to hear what he had to say *after* we left...). By the time we'd eaten, including chocolate/snicker cheesecake..., all we wanted to do was find a warm, soft pillow and crash. Intent on meeting for breakfast Sunday and await more AdL runs and the rest of the crew...
which G has detailed above...
Yes. It was cold. Yes. I would do it all again in a heartbeat. Even if it snowed. Although I did feel quite sorry for the horses that were outside Saturday night. Some of them decided they wanted to go for a midnight stroll (after their pens blew down) and some of the guys had to go round them up at 3 a.m. (I heard wearing not much besides jammies....).
It was great seeing friends again, and spending time with Anthony and Hollywood (who has learned the "photo-op" command from the best of them!). Anthony was nothing if not gracious and appreciative. With a great laugh and sense of humor tossed in for fun!
---
Cowboy Christmas Saturday Report.

Posted by Barb Wire on Monday, 7 December 1998, at 8:14 p.m.
Good Report Godiva!
To bring this into perspective, the Cowboy Christmas is a timed mounted shooting event. I liken it to barrel racing with a gun. There are men's, women's and jr.'s brackets, and everyone dresses in authentic western garb. There are set patterns that the rider must navigate, and from horseback shoot (with blanks) balloons stationed along the way, using 2 guns they switch in between barrels. Pictures coming will hopefully make sense of this.
I arrived in Victorville on Saturday morning. It was clear and nippy, cool but not cold, and a gentle breeze. There had been a Christmas parade (led by Dale Evans herself) early in the morning which we missed. Upon entering the museum parking lot, and seeing the parade ground all set up I wandered in to see if I could find Anthony and Mary. This ended up being very easy since they were sitting right outside the roped off area having lunch. He and Mary were surrounded by the two Vicki's, Maureen Russell and Brigit. Having spent a fun weekend with them on the cruise, it was a warm welcome from Mary, Anthony and Maureen. I was introduced to Hollywood (the rent-a-horse as Anthony would joke about during the weekend). Hollywood isn't a huge horse but he has a lot of heart! Hollywood was a bit tired from the parade they had been in earlier and seemed to be dozing, but man does that horse know when a camera is focused on him! During multiple photo op's Anthony most graciously afforded us, Hollywood would not be hidden behind us fans, and in one hopeful picture to be developed he has his head leaning on my shoulder just to get in the frame (snerk).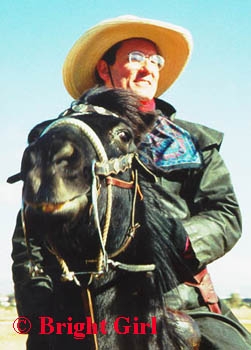 Do horses say "cheese"?
Saturdays event was to be 4 different patterns to shoot, but due to the parade and an event/party inside the museum later for the Desperadoes, they cut the Saturday legs down to 2, with the thought that they would get 4 in on Sunday (which was not to be). Anthony did well, for not having ridden western for some time, as he told us he does this type of event maybe every 6 months but I can say he was the only one with a *large* contingent of adoring fans. As is always his way, Anthony would finish his round with a flourish and ride right towards us with a big smile on his face for wonderful Photo Ops!
Anthony spent time looking at our pictures and keeping us up to date on the events when not on deck for his runs and when his last run was over for the day, even shared some of the Dalwhinne scotch I brought him among his adoring fans before we left for the day.
I met up with Reolla and Brigit for dinner which ended with a *yummy* peanut butter cup pie which was sinful and rich in both chocolate and peanut butter.
It hailed/rained overnight, my car was covered by a thin sheet of ice in the morning, when we went back over to the museum. Godiva has given you a pretty good report on the events of Sunday so I won't repeat. One correction is that Roy's son DUSTY and Dusty's son DUSTIN were both there on both days. They were very nice people to speak with.
Another benefit was that due to the Cowboy Christmas event, admission to the museum was only $1.00 both days. Great deal. We all went to see Trigger and Buttermilk and Bullet and even got AdL to sit on these little toy wooden horses for a photo op with us.
In all it was a great weekend with good friends! Next stop, End of Trail, I think.
Eloquent as always.

Posted by Godiva the nipped on Monday, 7 December 1998, at 8:23 p.m.
You describe it much better than I. Me. uh.
End of Trail, you bet! April. Warm. Sun.
I'll even dress appropriately!
(My hair still hasn't recovered.)
---
What a great little excursion...
Posted by Oubliette MacWench on Monday, 7 December 1998, at 8:04 p.m.
Boy, sounds like you guys had a great time. The more I hear about AdL, the better I like him. And what a memory too. Does he remember names as well?
Thanks for sharing your adventure with us.
Yes.

Posted by Godiva on Monday, 7 December 1998, at 8:11 p.m.
He remembered Bright Girl and made a remark about the infamous three words from Anaheim. "Assume the position." Remembered both BG and Methos Watcher from the last Victorville shoot. Before the awards ceremony started he came over to thank all of us for braving the weather and coming out to cheer him on. And after the ceremony looked through MW's photo album of End of Trail and the previous Victorville shoot. All very friendly, low key. And he is very nice.
And someone told him I was Godiva.
You have any comment on that....Brigit?
It was me

Posted by Barb Wire on Monday, 7 December 1998, at 8:24 p.m.
Lady I admit it, he leaned over from where he was sitting with us and asked me who the nice lady in red was...I said Godiva before my brain even had a chance to think. His eyes lit up and he went "AHHHH!" Sorry if I was bad.
AHA!

Posted by Godiva revealed on Monday, 7 December 1998, at 8:29 p.m.
Actually he met the real me at ACCESS.
He's gotten a few e-mails from me so he only knows "Godiva" in print. But now he has a face to attach to the name. And he knows Bright Girl by her handle. And all the Desperadoes use western handles.
So it's OK.
I'm sure he won't tell anyone.
And Mary's seen the stables.
SNERK

Posted by Barb Wire on Monday, 7 December 1998, at 8:32 p.m.
Well, he knows me as Barb and Barb Wire, you missed the discussion that my handle works in multiple arenas. I could be a mounted Desperado using Barb Wire don't you think?
What about Godiva?

Posted by Godiva on Monday, 7 December 1998, at 8:43 p.m.
Think they'd let me ride...uh...in an appropriate costume?
LOVE IT! (did they have skate keys in the wild west?)

Barb Wire -- Monday, 7 December 1998, at 8:54 p.m.

Didn't you see it?

Posted by Godiva, bareback rider..I didn't say *who's* back. on Monday, 7 December 1998, at 9:04 p.m.
In the museum, right next to the skates.
At least I don't have to worry about my key interfering with my drawing my pistols.
I wonder how hard it would be to do a barrel run side saddle?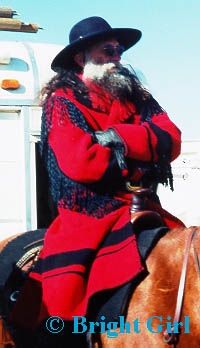 Horsedancer, the overall winner and in my opinion a candidate for best dressed.
If I were to wear a coat, this would be the one!
---
Stables