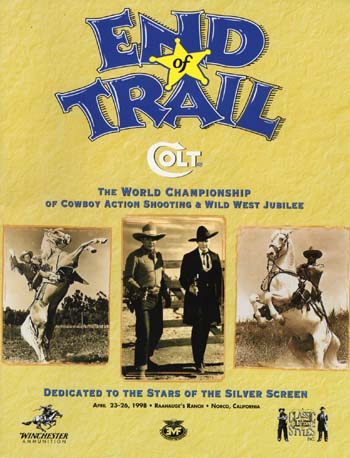 What do pickups, buffalo, the word "ma'am", and Anthony de Longis have in common?
Posted by Casilda MacWench, feeling considerably better on Saturday, 25 April 1998, at 7:29 p.m.
The End of the Trail World Championship of Cowboy Action Shooting in Norco, near Corona (about an hour's drive from the Anaheim Hilton).
AdL was there doing a whip, sword, and shooting act. Pretty impressive.
I'd gone to the wrong ranch, so I was late and a little concerned about finding Godiva, Riot, Bright Girl, and Methos Watcher. I needn't have worried. As I watched AdL's act from the side of the stands, I noticed him pointing his saber at someone in the stands and later saluting to someone in the same spot. I just knew that was where my Forumland friends were! I was right. As soon as he came on, Godiva and Riot went to the fence to take pictures, and AdL kept hamming it up for them!
He and his patrner were on horseback. They were billed as the Australian Light Calvary. (Australian cowboys--It doesn't get much better than that, girls!)
First thing he did was swing a whip around over his head a couple of times and snap it. Wow! Then he and his partner took turns jumping their horses over a low fence while swinging their sabers at balloons as they went over.
At one point, they jumped the fence together. Impressive.
Then they did a mock saber fight on horseback. They did some pretty fancy saber tricks. It was like the sword demonstration at the con only on horses that weren't necessarily cooperating. I loved it.
Who knew? Who knew cowboy country was so close to my suburban home? I've never seen so many pickups all in the same place. And I've never been called "ma'am" so many times. The place was teeming with cowboys, Union officiers, and women dressed in late 1800's garb. There was a sign as you entered telling you to check your firearms (I guess that's like having your sword peace bonded!), but I saw plenty of people with holsters and seemingly real guns. In fact, as we were leaving, the man at the gate showed us his revolver.
The event continues through tomorrow, so if you're in the SoCal area, I strongly recommend you mosey on over. (I'm not sure if AdL will do his act tomorrow. I'd link the event's page, but I'm not at home so I don't have it right now.)
Casilda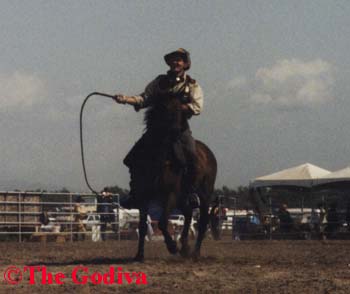 ---
The only place I'll allow myself to be called Little Lady and not take a head.
Posted by Godiva -who now has 'hat' hair, but still has her boots on. on Saturday, 25 April 1998, at 8:14 p.m.
Yes. It was all that and more.
If you're not registered to shoot you must check your firearm. But it is a shooting range so plenty of people had guns of all sorts and there were some for sale there as well.
The grilled sirloin on toasted garlic bread was to die for! But I digress.
Got there late, almost 11:30 and found Bright Girl and Methos Watcher. All the seats were taken but no problem. When Anthony and his partner Colin came out i just ran to fence and shot film.
Walked around, ate. The second show was at 3 but to be sure to get front row seats (so we could run to the fence) we got there a bit after 2. They were doing the competition. Ride your horse through a designated pattern and shoot ten balloons...five in the 'box' and five straight on full bore. Horsed had to make two turns. It was timed and you got 5 seconds added for each balloon you left. Anthony left two and Colin three. (I hope is wasn't because I was at the fence taking pictures.) We had no idea they were competeing so this was a bonus.
When the show finally started all the performers came out for an opening ceremony. I guess we weren't all that circumspect. Riot and I dashed to the fence and crouched down for pictures. Some really good ones. Like he was posing. I returned to my seat and she kept shooting. Then she came back and we're watching. Well, not everyone. Anthony and Colin are mugging for us. Waving, smiling, blowing kisses. Guess we are now the Australian Light Calvary Groupies. Well, it was easier for Casilda to find us that way.
Yes, we screamed everytime his name was announced. That's our job and we do it well. And it allowed mdoatb to find us later as well. A veritible mini-gathering.
When it was time for their routine they started with the whips, on horseback of course. Colin held a stick of celery out and Anthony rode by full tilt and whipped it in half. Then they went to the sabres. The rode by mannequin heads stuck on stalks of celery which they proceeded to "behead". And then staged a mock battle with each other. If you think regular swordwork is impressive you should see it on horseback. And the danger involved. There final piece was using the revolvers. Then then both jumped the small fences together while riding toward the audience. And a few more poses. (Thanks Whip Snake. Will send jpegs when scanned.)
Got some great shots, ran out of film. Riot did better. We'll trade.
Go. Go early. Like 9 am so as not to miss anything and get a good parking spot. Tomorrow there is a show. And be sure to catch Bennie Martinez and T.C.Thornstenson. Bennie does the most awesome lariat work I have ever seen. And T.C. rides Harvey Wallbanger Jr., the racing buffalo. (From the Domino's pizza buffalo wings commercial for one.) That buffalo did better tricks than some of the horses. Truely impressive.
Be prepared. $2 to park. $9 to get in. If you want a program it's $4. (You can read that Anthony recently returned from shooting "Adveentures of Sinead"! ) and the delicious grilled sirloin dinner was $6.
I had a great time.
I am glad I did not wash my hair before I went. I now must wash it and all the dust from my entire body.
It was worth it.
Think I'll go next year. Anyone else?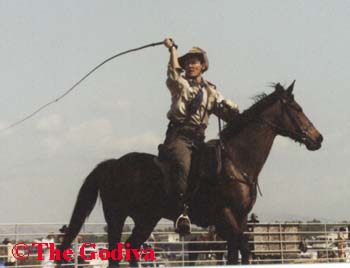 ---
Ooo, La, all that and he can shoot, too!
Posted by mdoatb, stoppin on in to say "Howdy". on Saturday, 25 April 1998, at 9:31 p.m.
I arrived at about 2 pm, which was in plenty of time for the second show. Went wandering around the vendors (lots of period (mid to late 1800's, that is) guns, lots of modern guns that looked period, lots of ammo booths, and plenty of costuming booths). I picked up the AlterYears pattern catalog, so if anyone needs any info on period patterns (any period), please e-mail me at [mdoatb@hotmail.com] . Probably the weirdest thing at an event of that type was the lack of jewelry booths! You'd think there would be at least one seller of Victorian jewelry, even if it was just cameos or silver-and-marcasite, but there wasn't.
But I digress. I got to the arena in time to see the person competing just before Colin and then Anthony came on, and I too was impressed by what I saw. Despite my late arrival, I had reasonably good seats, but I couldn't get around the tightly packed group in front of me so I could take arena-side pictures, so all my tasty shots have yummies between rails.
I won't go over what everyone has already said (the Australian Light Cavalry show was great, TC and his amazing Harvey Wallbanger were... amazing, and Bennie Martinez and Napoleon were incomparable), but I think the Painted Magic Drill Team rates a mention (they were the sparkly chicks). Eight women riding in close formation, doing patterns, dodging in and out of each other's way, keeping pretty darned synchronized, (difficult to do on horseback, I should think) and only the announcer to spoil it. I kept thinking that there was never a gun around when you needed one to knock off an annoying sportscaster who is detracting from a superb performance. Then I remembered where I was ("Well, duh! It's a Cowboy Shooting Championship, twitbrain!"). I let him live.
If you are in the area, GO!! It's a lot of fun. And some of those cowboys were pretty good eye candy, even though I'm not the cowboy type.
mdoatb, which, in case you were wondering, is pronounced "Connie".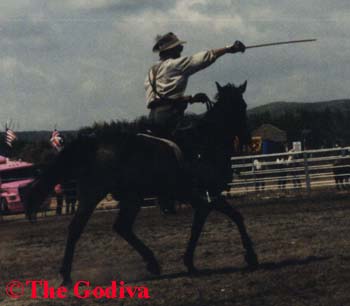 ---
YeeeHAAA!...
Posted by Riot MacWench Whip-Snake Groupie#1 on Saturday, 25 April 1998, at 8:42 p.m.
And did you notice that gruff cowboy riding with the whip, who all of a sudden smiled *that* smile and transformed into Anthony de Longis?
What a blast.
Riot MacReallyDusty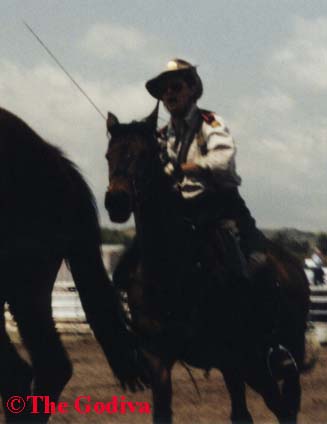 ---
Stables