---
Reviews & Summaries - Reviews
---
What you'll find here:
Full, complete reviews of each episode

Short reviews of the episode

Mini Reviews written by visitors to the site

Highlander: The Raven Reviews
Why I like it:
If you're like me, you probably enjoy discussing your favorite shows with other fans. A show like Highlander provides a lot of material for discussion and review, and HAM reviews offer just that. Harmony and Alaska Man have taken the time to do an in depth review of almost every episode of the series, from 'The Gathering' to the finale. HAM was one of the first sites that really showed me what fans of the series had to offer.
If you're not up for reading the whole thing in one night, the site also offers overviews of each episode. Rated on a five lightening-bolt system, Harmony and AM have both offered a quick write-up on each episode. You can find even more thoughts on the series with the fan mini reviews where visitors to the site are invited to add their own input. Finally, HAM doesn't just cover Highlander: The Series. There are now several of the first season Highlander: The Raven reviews up to read. The site itself is easy to get around and easy on the eyes. Past reviews are archived as well as the overviews and mini reviews.
What I enjoy most about the site is how it makes you look at things you might never have picked out. After reading the reviews at this site, you'll want to pull out your Highlander videos and watch them again and again. And with a brand new look, HAM is definitely worth a visit!
Notes:
When it came to choosing the first site to review for Quink's Pick, I had a hard time deciding which one it would be. There are so many different sites out there related to all different areas of Highlander. I eventually chose HAM Reviews because it was one of the first Highlander sites I came across and if I had to choose one website that turned me into an obsessed fan, it would be this one. In a way, HAM is partly responsible for Quink's Links being what it is.
Back to Quink's Pick | Back to Reviews and Summaries
---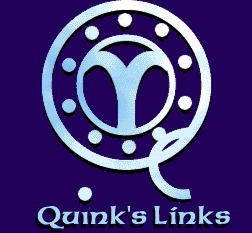 Email | About Quink's Links | Home | Quink's Pick | Add a Link | Awards for Quink's Links | Guestbook

Disclaimer: Highlander belongs to Davis/Panzer, Rysher and various other powers that be. I don't claim to own any of the sites I link to, so praise/complaints about those sites should be sent to the owners.
Graphics on this site were created espically for Quink's Links, so please don't steal.
Email me at quink101@hotmail.com.
© Quink 1998, 1999, 2000