The following is a biography as best known for Valentine Pelka.

You may find more information on Mr. Pelka at the

Official Valentine Pelka Fan Club.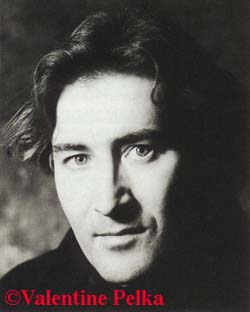 The publicity still on this page can be found in the March 1998 issue of Impact Magazine.
---
Valentine Pelka was NOT born on February 14th. However he was born in Dewsbury, West Yorkshire to a Polish father and an Irish mother. Valentine Pelka is an alumni of LAMDA (The London Academy of Music and Dramatic Art) where, in addition to his stage training, he received stage combat training under the direction of John Waller. Mr. Pelka's father worked as a civil engineer to provide for his son's dramatic training. Mr. Pelka's mother was a popular actress and is an avid supporter of her son's career. Mr. Pelka's sister, Kazia Pelka, is also a fine actress in her own right and a graduate of LAMDA. They appeared as brother and sister in the episode 'Sitting Off the Dock of the Bay' of "Heartbeat" and performed together in 1989 in "Caste" at the Watermill Theatre. Kazia also provided some dubbing for her brother in the Pulaski episode "TV Detective."
While at the prestigious Royal Shakespeare Company, Mr. Pelka played leading roles in "Romeo and Juliet" and "A Woman Killed With Kindness"as well as performing a one-man show, "Maud". A familiar figure on British television and the stage, he has appeared in "Nanou," "If Tomorrow Comes", "Hold the Dream" and "Good King Wenceslas".
His film credits have seen him appearing with Albert Finney in "John-Paul II", Jason Robards and Glenda Jackson in "Sakharov", Sir Alec Guiness in Graham Greene's "Monsignor Quixote", opposite Hugh Grant in the award-winning "Rowing With the Wind" (recently released on video), with Richard Gere in "King David" and as Sir Patrise with Sean Connery in "First Knight". Notable TV appearances include, "Peak Practice", as Eager-Wright in the episode 'Sweet Danger' of "Campion", as Sarak in 'The Sheriff of Nottingham' episode of "Robin of Sherwood", as Roland in the television series "Crossbow" and as Kronos in the episodes 'Comes A Horseman,' 'Revelation 6:8', 'Archangel', 'Armageddon' and 'Not To Be' of "Highlander: The Series". He recently appeared as Maurice de Bracy in A & E's production of "Ivanhoe". He has also appeared in "Mortimer's Law" for British television and a comedy, "What Rat's Won't Do" for the big screen. Mr. Pelka has recently appeared in "Bugs" and "Family Affairs". In February of 1999 two episodes of "Highlander: The Raven" featured Mr. Pelka as a guest star. He played immortal Andre Korda. Mr. Pelka has also completed work on two films: "Sabotage"(yet to be released) with David Suchet and Alexandra Vandernoot (Tessa on Highlander: The Series) and "Last of the Blonde Bomb Shells" with Judi Dench and Ian Holm which recently aired on HBO.
Mr. Pelka has completed work on the syndicated show "Queen of Swords" which was filmed in Spain. He was reunited professionally with several other Highlander: The Series alumni, Peter Wingfield who will also have a recurring role and Anthony de Longis who is the Fight/Sword Co-ordinator for the show. Ken Gord and David Abramowitz, late of Highlander: The Series, were also involved with "Queen of Swords".
Currently, Mr. Pelka's latest project is the role of "Michal" in Roman Polanski's "The Pianist" based on the life of polish pianist Wladyslaw Szpilman and based on his autobiography The Death of a City.
Mr. Pelka's other interests include 19th century literature, particularly the works of Charles Dickens and Jack London. Mr. Pelka also paints and hopes to show his works publicly in the near future. He has a degree in Humanities (French and English) and speaks French, Italian and Spanish. He has also been studying Aikido since 1993. Mr. Pelka is a proficient horseman and an enthusiastic and life-long supporter of the Leeds United Soccer Team.
Mr. Pelka has been married since 1995 and is also quite devoted to his cat, "His Nibs". On October 13th of 1998 the Pelka's welcomed a son, Marius Jude Ryu, into their family.
Mr. Pelka is a popular guest at conventions.
Of interest might be the following biography for Mr. Pelka that appeared in the Official Highlander "The Celebration" Convention pamphlet, Anaheim, CA. '98. Look familiar? It first appeared in the Chronicles '98 convention booklet, Manchester, England, written by Anthony John Mosby, who borrowed from the above bio with my consent. Upon reading "The Celebration" bio we both had a good laugh. And the laughter never ends. Check out the newest incarnation edited from the above. I've updated since the "Celebration" version, but it doesn't seem to help. I guess I'm a better writer than I thought.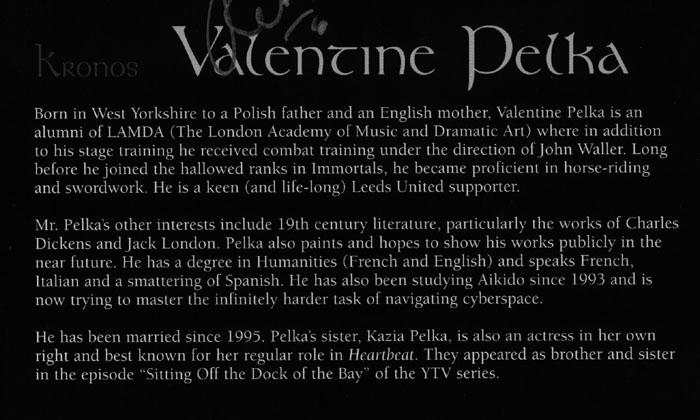 ---